12 x supply as complete solution, autonomous with PLC and protective housing.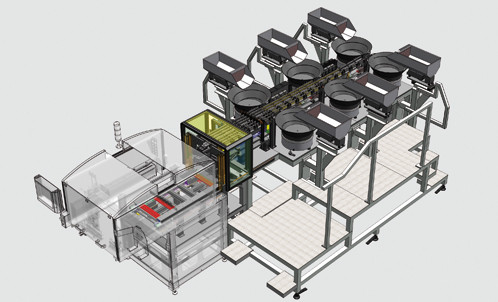 Grimm solution, 12x supply

Application


One part (see left)
12x aligned workpiece supply
Capacity: 12 parts in 2.5 seconds
Case study
6 refilling hoppers, 6 bowl feeders, 6 linear rails and a 12x supply
In the bowl feeders, the parts are sorted and aligned and are transferred then to the accumulation section (linear rail).
At the end of the linear rail, the parts are put into groups of 6 and then transferred to the drop chutes.
6 parts are swiveled back into the horizontal position at the end of the drop chute and are placed on the cycle belt.
The 6x separator traverses and another 6 parts are placed on the cycle belt.
The cycle belt then traverses with a series of 12 parts.
At the end of the cycle belt, 12 parts are ready for removal every 2.5 seconds.