Stacking device as a complete solution with PLC and protective housing.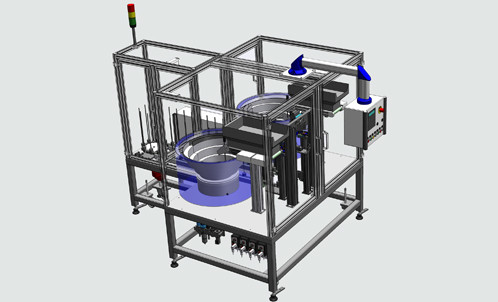 Grimm solution, stacking device

Application


Two parts (see left)
Both parts should be alternately stacked on a rod
Capacity: 13 cycles / minute
Case study
2 refilling hoppers, 2 bowl feeders, 2 linear rails and a circulation system (magazine storage)
Alignment of both parts in the bowl feeder
Aligned feeding by the linear rails, each in a non-moving end piece
A handling system places part 1 on the rod (magazine)
At the same time, a second handling system grips part 2 out of the non-moving end piece and puts this on the rod (magazine) as well.
Both parts are stacked alternately this way (approx. 24 parts per magazine)
As soon as a magazine is fully loaded, the next one is made ready and fixed in place. A cycle chain is integrated for this with 40 magazines.
Filled rods (magazines) are removed by an operator.