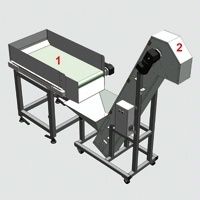 Structure of the hopper combination:

1 hopper system type BBH

2 hopper systems type BSF-1
Characteristics of hopper combination type BSF-1 and type BBH
Thanks to the accommodation capacity of large part volumes, very long autonomous runtimes are possible.
Very well-suited for storing heavy parts
The feeding unit's susceptibility to failure is reduced decisively by the constant charges.
when being filled by operating personnel, the filling aid facilitates the operation
Possible to add automatic tilting device for large containers
Components and accessories
We offer the following accessory components, which are compatible with our hopper systems of type BBH:
Hopper control BS3, connection: 230 V/ 50/60 Hz or 400 V/ 50/60 Hz, designed for the connection of a 3-phase motor, 3 inputs for the connection of external sensors, 2 outputs (floating relay contacts) for max. 230 V,
2 A AC max.
Pendulum switch PS1 for automated filling level control of bulk material in the sorting device, compact design, optical status display via LED, inductive switch without wear
Filling level query in the bulk hopper with a light barrier divided into two parts
Filling aid for manual filling
Tilting device for large containers

You can get detailed information about our accessory components in the download area.
Photo gallery Hopper combination type BSF-1 and type BBH